Carnival Horizon
Overview
The line that brings the sea and the sky together inspired us... to build a ship that unites you with great fun, comfort, dining and exotic destinations. And most importantly, unites you with one another. It's Carnival Horizon!
This ship doesn't just do it a little bit, either. First, Carnival Horizon goes big with the two-screen Carnival Multiplex, which brings together one theater packed with huge IMAX action and one with 3D visuals, incredible motion effects and more! This ship keeps things flowing with an onboard waterpark that splashes you more than a little - Dr. Seuss WaterWorks splashes you oodles, with a little help from the wacky characters everybody loves. Go for a bike ride way, way above it all at SkyRide. The Punchliner Comedy Club and Playlist Productions are just two of your top entertainment picks, while Lip Sync Battle: Carnival is your chance to take all the talent you packed before you left home... and show it off, up on stage.
For relaxation, get to Serenity Adult-Only Retreat, or step up to max relaxation at Cloud 9 Spa featuring great massages, thermal suites and more. Havana Bar & Pool is a good one too - a spot that brings together stylish poolside lounging with authentically Cuban cocktails... adding hot nightlife into the mix once the sun goes down. And all day long, you know we've got stuff for the kids - Carnival Horizon has three age-specific youth spaces!
This ship brings tons of flavor to every meal. It starts with a guy named Guy - Fieri - who created two awesome spots on the ship: one's the crowd-pleasing Guy's Burger Joint, and the other happens to be Guy's Pig & Anchor Smokehouse I Brewhouse, a spot that serves up BBQ classics paired with freshly-brewed-right-on-board beers. If you're looking for great seafood on Carnival Horizon, then Seafood Shack's the place to cast your net. Bonsai Teppanyaki is an intimate meal and interactive performance, while Fahrenheit 555 is a dining experience that stands toe-to-toe with some of the best steakhouses on land. Jiji Asian Kitchen and Cucina del Capitano each specialize in delighting certain taste buds: the ones craving pan-Asian favorites, and classic Italian dishes served family-style. (Check... and check!)
Add all this together and you've got... a vacation on Carnival Horizon that truly brings it all together.
Outdoor
SkyRide
SkyRide is a bit like riding a bike - you'll never forget it.
Serenity Adult Only Retreat
Serenity's the faraway place...that's actually quite close to it all.
SportSquare
At SportSquare, there's a game for you...and a champion inside of you.
Dive-In Works
Settle in to a poolside lounge chair - or even the pool itself - as you take in a big-name movie under the stars.
SkyCourse
Accept the challenge? Strap in and take to the sky.
SkyFitness
There's a gym on top of the cruise ship. (And that's a good thing.)
More Choices:
WaterWorks
Mini Golf

Pools
Twister Waterslide
Jogging Track
Basketball
Volleyball
Spa and Fitness
Facial Treatments
We won't just treat you, we'll treat you well.
Fitness Center
Vacation is actually a great time to hit the gym. And here's a good gym to hit.
Fitness Classes
For the shortest path between here and fitness, ask our expert instructors for directions.
Hair & Beauty Salon
Get that classic 'just went to the salon' look while you cruise.
Men's Services

Hey man, been to the spa lately?
ZSpa
Finally, a spa worth tweeting about.
More Choices:
Massage
Cloud 9 Spa
Cloud 9 Spa: Thermal Suite
Medi-Spa
Jogging Track
Acupuncture
SkyFitness
Bars and Lounges
Casino Bar
Finding a great drink here is never a roll of the dice.
Cheers!
Say "cheers" to celebrating with a full glass - all cruise long!
Cruise the Vineyards
Wine lovers, take your palate on a worldwide escapade.
Mixologist Competitions
Calling all cocktail captains: come mix it up, pour it over ice...and let's raise some spirits.
Piano Bar
Finally. A bar where singing along isn't just tolerated, it's strongly encouraged.
Havana Bar
Step into the Havana Bar and enjoy an authentically Cuban experience as you cruise.
More Choices:
Guy's Pig & Anchor Smokehouse I Brewhouse
RedFrog Rum Bar
Alchemy Bar
BlueIguana Tequila Bar
Exclusive Carnival Brews
Alchemy Martini Tasting
SkyBox Sports Bar
Beer Station
Casino
Carnival Players Club

Your Sail & Sign card is the key - play and earn special perks, private invitations and great offers.
Casino Prize Games

Put your skills - and a little luck - to the test.
Casino Tournaments
With a little luck, your next cruise may actually pay for itself.
Drinks On Us!
The secret to free drinks in the casino... is no secret at all.
Table Games

High rollers, low rollers - sit down... we're gonna have some fun.
More Choices:
Slots
Poker
Blackjack
Casino Bar
Scratch-Offs

Kids and Teens
IMAX
Catching a flick on your Carnival cruise just became a big, big deal.
Camp Ocean
At Camp Ocean, 2-11 year-olds stay busy, keep active and have fun as they enjoy all new ocean-themed activities in supervised, age-based groups.
Club O2
This is Club O2, the just-for-teens hangout on board Carnival.
Circle "C"
Welcome to the ultimate hot spot for guests ages 12 to 14. And with all this fun happening, they'll be LOLing in no time.
Thrill Theater
Grab a seat... then hold onto it tight. You've never felt dimensions like this before.
Dr. Seuss Bookville
Imagine a library inspired by Dr. Seuss. Now you can enjoy it on Carnival cruise.
More Choices:
SkyRide
Seuss at Sea
Hasbro, The Game Show
WaterWorks
Zumbini
SportSquare
Green Eggs and Ham Breakfast
Night Owls
Build-A-Bear Workshop at Sea
Seuss-a-Palooza Story Time
Dive-In Movies
Pools
Seuss-a-Palooza Parade
Cherry On Top
ZSpa
Mini Golf
Video Arcade
Arts and Crafts
SkyCourse
Entertainment
Karaoke
Channel your inner chanteuse, rock god or pop diva and wow the world (well, fellow guests at least) at karaoke.
Live Music
Music lovers, listen up. Because our ships are rocking and rolling with some of the best bands at sea.
Nightclub
Better pack your best moves 'cuz our dance floor is waiting for them. You ready to get this party started?
Piano Bar
Finally. A bar where singing along isn't just tolerated, it's strongly encouraged.
The Punchliner Comedy Club
Hope you packed your funny bone - our onboard comedy performances are designed to tickle 'em just right.
Hasbro, The Game Show
Your favorite board games come to life in this fun-for-all-ages game show extravaganza.
More Choices:
Lip Sync Battle: Carnival
IMAX
Playlist Productions
CLUE: The Murder Mystery
Thrill Theater
Dive-In Movies
SkyBox Sports Bar
Events
Groove for St. Jude
Do good. Feel good. And help some kids - also good, right?
Holidays Aboard
Holidays are some of the greatest days...and definitely some of the best to be enjoying a cruise.
Mega Deck Party
A deck party this 'Mega' can only happen on a deck this 'Lido.'
Sailaway Party
Get ready to have an absolute blast, from the moment we get going.
80s Night
Get, like, so totally stoked for this rad retro night at sea.
White Hot Night Party
Light up the night at this cool party that really turns up the heat.
Activities
Make it With Michaels
Make creativity happen with an onboard arts and crafts session designed by the experts at Michaels!
Build-A-Bear Workshop at Sea
Make cuddly new friends at sea.
Cooking Demonstration
Taste what happens when our chefs demonstrate how they make some of your favorite onboard foods.
Atrium
There's no place at sea as welcoming as the atrium - the welcome-aboard center.
Military Appreciation
We take time out of every Carnival cruise to give thanks to the folks who make it all possible.
Ocean Plaza
Enjoy the delicious sights, sounds and scents around-the-clock at Ocean Plaza.
More Options:
Mixologist Competitions
Bingo
Cherry On Top
Dream Studio
Onboard Internet
Mini Golf
Alchemy Martini Tasting
Pixels
Games
Video Arcade
Library
Basketball
Onboard
Unite over So Much Fun
Indoor or out, active or chill Carnival Horizon lets everyone find their favorite kind of fun and go get it done.
Sprortssquare featuring Skyride
At SportSquare on Carnival Horizon, it isn't just winning - but even just playing - that's big fun. At SkyRide, strap in and zip safely around our suspended two-lane course bike course high above the deck. At The Clubhouse, try indoor activities like mini-bowling and pool... while outdoor soccer, volleyball and ping-pong are always just steps away. Try for a hole-in-one at SkyGreens, sink threes on the basketball court, and challenge yourself to amazing new heights at SkyCourse, our ropes course.
Havana Bar & Pool
On Carnival Horizon you'll find the Havana Bar & Pool. Good find - the pool's an exclusive retreat to paradise by day, and the bar becomes a hot dance spot when the sun goes down. Grab a seat at the bar and order up handcrafted Cuban cocktails like a traditional Daiquiri or classic Mojito. This bar is just steps from the pool, whose ocean view and atmosphere mingles with the bar's own, for a bit of that old-time Cuban resort flavor.
Carnival Multiplex featuring Imax
Carnival Horizon actually features two movie theaters next door to one another, and we call the whole great big thing Carnival Multiplex. Behind door number one is an actual IMAX Theatre in all its huge-screen, huge-fun glory. And behind door number two? Thrill Theater lives there, and you are invited to the 3D experience where jump-off-the-screen visuals are only the beginning of a, shall we say, truly moving experience.
Carnival Waterworks
Splash into big-fun and way-whimsy - you could, you would, and you definitely should at Dr. Seuss WaterWorks, only aboard Carnival Horizon. When you open the book of vacation fun, flip directly to "completely soaking wet" - this onboard waterpark is where you'll find your favorite Dr. Seuss characters making a splash. The centerpiece is the two big slides: The Cat's Hat slide takes you twisting down the red and white stripes of the world's most famous top-hat, while the Fun Things slide take you through all the topsy-turvy of having the blue-haired pair appear in your living room. With side-by-side racing slides, splashy water-spray toys and a giant tipping top-hat, Dr. Seuss WaterWorks on Carnival Horizon features fun fit for a red fish, a blue fish... a you fish!
Serentiy Adult-Only Retreat
On Carnival Horizon, the Serenity Adult Only Retreat is a place to relax in complete peace, as smooth as a sea breeze through a palm tree. Serenity is the place to do the stuff that is so hard to do in everyday life reconnect with your partner, finish that book or do absolutely, blissfully, nothing at all. Adults take note: Serenity even has you covered with a chopped salad station that is open on sea days, featuring a menu that starts with a grand choice of greens, and finishes with your selection from among tons of delicious ingredients.
Cloud 9 Spa*
True or false: cruises are a time for relaxation. Our answer: whether you're all action all the time, or chill to the core, everybody needs a chance to take it easy! And nobody will find an easier spot than Cloud 9 Spa aboard Carnival Horizon. This is an oasis built from the ground up for relaxation, from a full complement of traditional spa services like massages, facials, body wraps to the carefully-designed climates of Cloud 9's thermal suites... rooms swirling with moist or dry air, each heated very precisely. It turns out it's true: anyone can find a reason to say "ahhh" at Carnival Horizon's Cloud 9 Spa.
Lip Sync Battle
The mic is off, but the battle is on... Carnival Horizon. Lip Sync Battle: Carnival, a stage version of the hit Spike TV series, features a series of competitions to see who can truly channel their inner superstar, and make the crowd go wild. Fight your way to the finals, where you'll get music, lighting, props, choreographers and even backup dancers to elevate your performance. But the attitude - superstar, diva, rockstar - that is all you. So get up there and work it, twerk it, give it all you got. And if you turn out to be the ultimate mover-and-shaker, you-ll be taking home an exclusive gift!
Playlist Productions
When was the last time you got up and grooved... at the theater? Playlist Productions takes songs you know and presents them like you've never known them before. Past favorites become full-blown musical productions featuring multi-talented performers absolutely bringing down the house with song, dance... and superstar attitude. With tunes from fan-favorite divas, crooners or rockers, each show has a different theme - and of course, a completely different playlist! Get ready for heartfelt emotions, straight-up bouncy fun, or something in-between - all types are welcome to get down here.
*Additional Cost
Dining
Guy's Pig & Anchor Smokehouse I Brewhouse
You know what they say: where there's smoke, there's great beers too! Enjoy BBQ faves freshly-smoked right there... plus our exclusive craft brews.
Bonsai Teppanyaki
Bonsai Tappanyaki features seafood, meat and tofu specialties masterfully prepared at your table.
BlueIguana Cantina
Head on down to our Mexican cantina, where the food is fresh and the atmosphere fresher.
Cucina del Capitano
Sit down to a delectable family meal at an Italian countryside villa. In the middle of the ocean.
Dining Room
Three courses, no pretension. This kinda-fancy dining event brings a premium selection of food options (and fun!) to your table every night.
JavaBlue Cafe
From the simply caffeinated to the simply sublime, nothing satisfies your coffee craving like JavaBlue Cafe.
More Options:
Guy's Burger Joint
JiJi Asian Kitchen
Steakhouse
Green Eggs & Ham Breakfast
Guy's Pig & Anchor Bar-B-Que
Lido Marketplace
Seafood Shack
Swirls
24-Hour Room Service
Bonsai Sushi
The Chef's Table
Seaday Brunch
Steakhouse Selections

The Carnival Deli
Kid's Menus
The Captain's Pasta Bar
Bottomless Bubbles
Dining Room Breakfast
Special Diets
Cooking Demonstration
Pizzeria del Capitano
Kids' Meal for Campers
Inaugural Cruise: 2018
Guest Capacity: 3,960(double occupancy)
Length: 1,055ft
Beam: 122 feet
Max Draft: 27ft
Gross Tonnage: 133,500
Cruising Speed: 18 knots
Total Staff: 1,450
Registry: Panama
Please select the deck plan you will like to see below
Serenity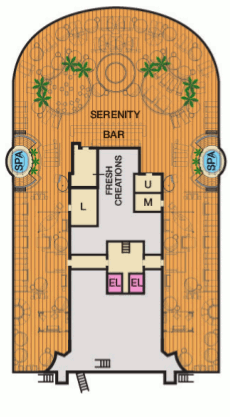 Vendor
Carnival Cruise Line
General
In a nutshell... we're all about fun vacations at sea and ashore! A Carnival cruise features day and nighttime entertainment like stage shows, musical performances, deck parties, casinos and more. (Like what? Like waterslides!) We invite our guests to come as they are, and we make everyone feel right at home with comfy staterooms, attentive service, casual and elegant dining, plus a variety of bars and gathering places indoors and out. Guests enjoy this unique experience against the backdrop of some of the world's most beautiful seaports.
Our 26 ships operate 3- to 24-day voyages, departing from every coast in the U.S., as well as Canada, Puerto Rico and Barbados. While we're best known for Caribbean cruises, we sail to other exotic and amazing destinations like Mexico, Alaska, The Bahamas, Europe, Hawaii and the Far East. Additionally, Carnival Cruise Line Australia now has three ships, and offers cruises from Sydney and Melbourne to New Zealand, the Pacific Islands and Singapore.
Carnival Cruise Line proudly supports important causes like St. Jude Children's Research Hospital.
We are so excited to collaborate and create your dream cruise vacation of a lifetime!
Please click below to start the process to book or transfer your next cruise and we will connect you with one of our wonderful advisors to assist you throughout your cruise booking process.
CLICK HERE TO BOOK OR TRANSFER A CRUISE
If you have an urgent service-related issue, please click on the link below to create a service ticket and one of our service representatives will work on your request. We do have support 7 days a week and will reply in order of urgency.
CLICK HERE TO START A SERVICE REQUEST