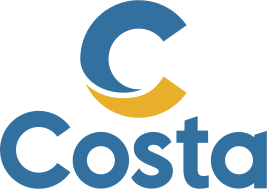 Costa Firenze
Overview
Discover Costa Firenze on the sea!
Costa Firenze, inspired by the home of multiple Renaissance masterpieces and offering us the experience of a true Italian vacation.
The beauty that fills our eyes as we wander through the streets of Florence, we find it here on board thanks to the attention to details and the famous Italian hospitality. Overwhelming emotions from dawn until dusk while our ship takes us to a new destination. During your cruise on Costa Firenze, you can experience Italian beauty and style first-hand in the various aspects of life on board including in the games, relaxing, shopping, in the food, in the Italian wine, in the shows offered in the theater and the entertainment. Costa Firenze, built in the Fincantieri shipyard, is the sister ship of Costa Venezia. Costa Firenze will sail the Mediterranean for an entire month with 5 cruises from Trieste and Savona before its 50-day cruise on November 2, 2020, from Savona to Hong Kong, reaching its homeport in mainland China.
Shopping
Italy is at the forefront of fashion and the birthplace of major brands and designers, guests can find the finest selection of brands from Fragrances to jewelries, timepieces, leathered goods and cosmetics.

Facilities
Restaurants & Bars
Self Service Restaurant
Costa' Self-service Restaurants are perfect for informal dining where you can grab a light snack or a full lunch. It's the perfect time to refuel, your cruise day is about to become more active. You can also choose the Self-service Restaurant for dinner if you would like a quick meal or to synchronize your dining time with the schedule of others. With a large variety of vegetables, salads, pasta, meat and fish dishes, delicious desserts and options your kids will love, the Self-service Restaurant offers a pleasant and colorful experience.
Teppanyaki
At Yan Teppanyaki, get your flavorful dishes delivered with flair by the chefs who create these sumptuous masterpieces of meat and seafood.
Casanova Restaurant
Treat yourself to the most exquisite dishes in Casanova, which offers a customized menu by Umberto Bombana, chef of the three-star Michelin restaurant, 8½ Otto E Mezzo Bombana.
Ice Cream and Chocolate Bar
An environment that is right out of a fairy tale, where you can enjoy a romantic indulgence or a delicious snack with your children. For the Amarillo Ice Cream Shop, Costa chose the best: the ice cream makers use only Agrimontana-based flavorings to prepare a delicious, creamy ice cream on board, preserving all the nutritional properties.





Entertainment
Bvlgari Jewelry Fashion Show
The sparkling and elegant jewels by BVLGARI are brought to life at our exclusive fashion show that will make you fully experience the essence of one of the most renown Italian luxury brand.
Golden Party
Dance the night away at our glamorous music, tasty drinks, positive vibes ad a lot of sparkles will make your evening simply unforgettable.
Carnival of Viareggio
Join the Carnevale di Viareggio, one of the most popular carnivals in Europe, mingling with the marching band, monumental allegorical floats, paper mache figures, thematic costumes, masks and face painting, at the rhythm of the music.
International Song and Dance Show
Costa offers a different show every night. All the performances on the bill are great productions perfect in every detail, from the costumes to the scenery..
Built: 2020
Guest: 5,246
Cabins: 2,136
Length: 323.6 m
Width: 37.2 m
Speed: 18 kn
Gross Tonnage: 135,500 t
Please select the deck plan you will like to see below
Deck 14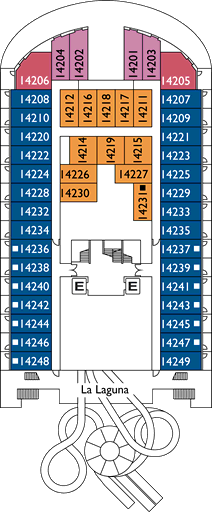 Vendor
Costa Cruise Lines
General
A 70-year journey
Almost 70 years since our first voyage with the Anna C on 31 March 1948, from Genoa to Buenos Aires, we are still going and still travelling the world's seas today with the Italian flag proudly flying above our heads. We have lots of stories to tell: one for each of our ships. The Franca C, for example, was the first ship in the world to be built for cruises. The year was 1957. Over time the designs, sizes and decor of the ships have changed, and balconies have been introduced to the majority of cabins; the tastes and requirements of passengers have evolved but our values have remained unchanged, our commitment to our customers.
Costa Crociere: horizons that know no bounds
For 70 years Costa Crociere has embodied Italian style and hospitality. We have always made it our business to introduce our guests to the world's most stunning places, giving them the chance to explore different destinations and discover the different cultures in the five continents with complete respect for their identities. As the only cruise company flying the Italian flag, it is our responsibility and duty to act as an ambassador for Italian values in the world and to represent our country at our ports of call. At Costa responsible innovation is a key factor when we design the ships of the future and develop the onboard experience, a process carried out with maximum attention to detail in order to offer a holiday geared towards discovering local cultures and experiencing them as responsible travellers.
This is why we have plotted a course that regards innovation and sustainable development as the foundation for our future. For this reason, we strive to minimizes the impact we generate on the destinations we visit with you.
We are so excited to collaborate and create your dream cruise vacation of a lifetime!
Please click below to start the process to book or transfer your next cruise and we will connect you with one of our wonderful advisors to assist you throughout your cruise booking process.
CLICK HERE TO BOOK OR TRANSFER A CRUISE
If you have an urgent service-related issue, please click on the link below to create a service ticket and one of our service representatives will work on your request. We do have support 7 days a week and will reply in order of urgency.
CLICK HERE TO START A SERVICE REQUEST