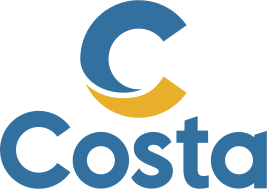 Costa Toscana
Overview
The art of experiencing the sea
A cruise on Costa Toscana, our new flagship, will be unforgettable.
Shows and entertainment featuring international artists await you, as well as swimming pools with slides and water games for all ages, a state-of-the-art spa and gym, and much more.
Costa Toscana is also synonymous with excellent cuisine with the widest variety of Italian and international restaurants in the fleet.
And that's not all - Costa Toscana keeps the environment in mind, with new LNG propulsion engines making for increasingly sustainable travel.
Dining
Archipelago
Discover the new Restaurant Archipelago: a brand new location with innovative and sustainable design. Three world-famous chefs with three new menus await you: Bruno Barbieri, Helene Darroze and Angel Leon.
Teppanyaki Restaurant
For a different type of experience, spend a night in a Oriental style soft environment, where you can observe the craftsmanship of Japanese chefs.
Squok Restaurant
Breakfast, lunch and dinner served at your table, which will be booked for your entire cruise. An a la carte menu awaits you with a wide selection of dishes carefully prepared by our chefs.
Sushino at Costa
Sushino at Costa is our first sushi bistro on board and is designed to bring you an authentic Japanese experience that includes nigiri, maki, sashimi, and mochi. Aperitif, lunch, or dinner? Sit in or takeaway? The choice is yours! Our sushi chef has created some dishes for you to savour, prepared following ancient traditional recipes.
Pummid'Oro Pizzeria
Pizza&mozzarella with selected ingredients and traditional cooking recipes.
Nutella At Costa
Discover the area dedicated to Nutella and its recipes to add a touch of optimism to your holiday in the middle of the sea
Activities & Entertainment
Colosseo
The heart of the ship where something is always happening with different performances, a variety of entertainment and a number of themed lounge bars.
Piazza del Campo
There is a grand staircase on the sea with stunning views overlooking the wake of the ship. A perfect place for games and parties with entertainment.
Squok Club
We take care of the little ones from 3 to 11 years old, offering many fun and stimulating activities!
Splash Acqua Park
From speedy bends to fast descents, you can test the courage of your friends or play with the whole family. Have fun on our slides, refreshed from the sun in the cool water.
Versilia Beach
The pool decks are the place of fun and the meeting place par excellence, where you can make new friends while sipping a drink.
My Moments
Make your cruise unforgettable: photos, magnets, original gadgets and many other objects to frame your vacation.
Spa & Fitness
TechnoGym
A gym fully fitted with TechnoGym equipment, so you can stay in shape even on holiday.
Skywalk
A spectacular skywalk to literally stroll on the sea, admiring the view from a height of over 65 metres.
Solemio Beauty
Everything you need for your beauty: hairdresser, barbering, facial masks to refresh and tone you, hair removal and manicure, to always be at your best.
Solemio Spa
Everything you need for your beauty: hairdresser, facial masks to refresh and tone you, hair removal and manicure, to always be at your best.
Bars & Lounges
Heineken Star Club & Bistro
The first floating Heineken Star Club & Bistro in the world, a "contemporary pub" where the gastronomic offer meets the best of Heineken entertainment.
Ferrari Spazio Bollicine
Discover the elegance of Ferrari Trentodoc bubbles with a toast on the sea that will seduce you from the first sip
Aperol Spritz Bar
An Aperol Spritz is an invitation to smile for the day in an atmosphere of serenity, an expression of joy on your Costa holiday.
Campari Bar
The Campari Bar will offer a portfolio of Campari liqueur varieties and popcorn flavored with Campari or caramel.
Built: 2021
Decks: 20
Cabins: 2661
Length: 337m
Beam: 42m
Gross Tonnage: 183900 gt
Please select the deck plan you will like to see below
Forte Dei Marmi Deck

Vendor
Costa Cruise Lines
General
A 70-year journey
Almost 70 years since our first voyage with the Anna C on 31 March 1948, from Genoa to Buenos Aires, we are still going and still travelling the world's seas today with the Italian flag proudly flying above our heads. We have lots of stories to tell: one for each of our ships. The Franca C, for example, was the first ship in the world to be built for cruises. The year was 1957. Over time the designs, sizes and decor of the ships have changed, and balconies have been introduced to the majority of cabins; the tastes and requirements of passengers have evolved but our values have remained unchanged, our commitment to our customers.
Costa Crociere: horizons that know no bounds
For 70 years Costa Crociere has embodied Italian style and hospitality. We have always made it our business to introduce our guests to the world's most stunning places, giving them the chance to explore different destinations and discover the different cultures in the five continents with complete respect for their identities. As the only cruise company flying the Italian flag, it is our responsibility and duty to act as an ambassador for Italian values in the world and to represent our country at our ports of call. At Costa responsible innovation is a key factor when we design the ships of the future and develop the onboard experience, a process carried out with maximum attention to detail in order to offer a holiday geared towards discovering local cultures and experiencing them as responsible travellers.
This is why we have plotted a course that regards innovation and sustainable development as the foundation for our future. For this reason, we strive to minimizes the impact we generate on the destinations we visit with you.
We are so excited to collaborate and create your dream cruise vacation of a lifetime!
Please click below to start the process to book or transfer your next cruise and we will connect you with one of our wonderful advisors to assist you throughout your cruise booking process.
CLICK HERE TO BOOK OR TRANSFER A CRUISE
If you have an urgent service-related issue, please click on the link below to create a service ticket and one of our service representatives will work on your request. We do have support 7 days a week and will reply in order of urgency.
CLICK HERE TO START A SERVICE REQUEST