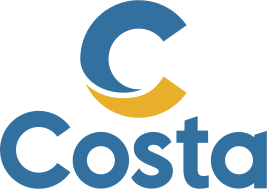 Costa Serena
Overview
Costa Serena is dedicated to the Olympian Gods and the myths of classical antiquity, the source of its majesty and greatness. The spectacle starts at the Pantheon Atrium, with its panoramic lifts that seem to rise to meet the sky and its grandiose murals. It is embellished all over with prized materials, works of art and luxurious decorations. The majestic areas cocoon Guests in a magical atmosphere of wellbeing. Costa Serena is a unique experience, enriched by evocative beauty. 
Costa Serena is a combination of elegance and sophistication, with spacious panoramic decks named after the most famous constellations, and refined interiors. Every area reflects beauty, pleasure and entertainment. Such as the Sole Lido, with its retractable roof, pool and Jacuzzis and the 18 m2 mega-screen or the magnificent Samsara Spa with its cosy and relaxing spaces. A setting designed to offer complete relaxation but also offering the high-technology emotions of the Grand Prix Simulator and 4D Cinema. Costa Serena is one of the most spectacular ships of the fleet, designed to amaze.
Kids & Teens
Squok Club
A fun-filled and friendly space designed for the youngest children, while older brothers and sisters can make new friends by taking part in the sporting competitions and pool parties. And what do the parents get? Peace of mind thanks to our experienced, attentive staff who are with the children throughout the day. Bullets below
6 months to 3 years
Priority boarding (under 3 years old)
Cots, beds, baby baths, seats, bottle heating service (available 24 hours a day from cabin staff)
Baby food prepared in the restaurant (on request)
3 years to 11 years
Treasure hunt and pool games
Costume parades
Educational games and sports tournaments
Theme dinners and parties
Karaoke and kids disco
12 to 17 years
Dance lessons
Sports tournaments and pool games
Theme dinners
Pool parties and disco games
Bars & Lounges
Apollo Grand Bar - For special, fun-filled evenings, to the notes of live music.
Victoria Sports Bar - A must for sports lovers looking to relax and sip on a nice drink while watching entertainment on the plasma screens.
Bar Classico Ercole - The exclusive Cigar Bar for those who delight in a quality cigar and an excellent liqueur.
Minerva Piano Bar - Cocktails and live music while you peacefully chat after dinner.
Juventas Chocolate Bar - A chocolate bar to delight those with a sweet tooth, featuring an incredible chocolate fountain.
More Choices:
Pantheon Bar
Apollo Grand Bar
Victoria Sports Bar
Bar Classico Ercole
Minerva Piano Bar
Juventas Chocolate bar
Other Bars: Luna, Cupido, Pan, Sole, Urano, Bacco, Scuderia Costa
Dining
Ceres Restaurant - Seating more than 1,000 Guests, this bright and elegant restaurant extends over two levels. It is the location for the most important on-board dinners.
Vesta Restaurant - Elegant restaurant over two floors that welcomes Guests in a festival of lights and a relaxing atmosphere
Prometeo Buffet Restaurant - Enjoy the spectacle of the sea front row while you dine on the beautiful open-air veranda.
Samsara Restaurant - The wellbeing experience for Guests staying in the Samsara cabins and Suites continues at the table in this elegant restaurant offering low-calorie menus.
Club Bacco - The prestigious Gambero Rosso Guide awarded the "forchetta" to this exclusive restaurant, where you can enjoy sophisticated a la carte menus every evening
More Choices:

Ceres Restaurant
Vesta Restaurant
Prometeo Self Service Restaurant
Samsara Restaurant
Club Bacco Restaurant
Entertainment
Giove Theater

extends over three decks in a triumph of lights and is the stage for the great on-board shows
Cupido Ballroom
Inspired by the theme of love
Giano Casino
Slot machines, roulette and gaming tables await Guests
Clio Library
Elegant and welcomes those seeking a relaxing reading break
4D Cinema
Offers not-to-be-missed emotions for the young and old alike.
Mega-Screen
Guests can choose to enjoy the great events shown
More Choices:
Luna Lounge
Minerva Piano Bar
Card Room
Mercurio Lounge
Clio Library
Virtual World
Squok Club
Teen Zone
Sole Lido
Luna Lounge
Minerva Piano Bar
Card Room
Mercurio Lounge
Clio Library
Virtual World
Squok Club
Teen Zone
Sole Lido
Spa & Fitness
Multipurpose Sports Pitch
Sporty types will appreciate; tennis and volleyball, the outdoor jogging track available
Grand Prix Simulator
Experience the emotion of the racing track
Samsara
The most exclusive of spas, a dream space offering the perfect combination of wellbeing treatments. More than 6,000 m2 of pleasure and relaxation on two levels, a world in which the cleansing experience of the spa is combined with the fascination of oriental rituals, including steam baths, massages with volcanic stones, oil-based treatments and ancient Ayurvedic rituals.
Iris Lido Water Chute Slide
For those who love taking a dip in the pool, this slide has a breathtaking panoramic view.
More Choices:

Jacuzzis
Gym
Sole Lido
Urano Lido
Jogging Track
Solarium
Venus Beauty Salon
Activities
Mercurio Conference Room
(with seating for more than 100) and other rooms with video wall, audio system, microphones, video projectors, video cameras, screens and technical equipment, are all available upon request.
Pan Disco
Relaxation and entertainment for all guests; with beautiful music for a fun evening's dancing.
Shopping Gallery
Exclusive boutiques that are perfect for window shopping.
Internet Point
For those who always want to be connected there is the convenient and practical.
More Choices:
Squok Lido
Guest Capacity: 3,780 (maximum occupancy)
Construction: 2007 Fincantieri, Italy
Length: 290.20 m
Width: 35.5 m
Tonnage: 114,500 t
Crew: 1,100
Total cabins: 1,500
Please select the deck plan you will like to see below
Deck 12

Vendor
Costa Cruise Lines
General
A 70-year journey
Almost 70 years since our first voyage with the Anna C on 31 March 1948, from Genoa to Buenos Aires, we are still going and still travelling the world's seas today with the Italian flag proudly flying above our heads. We have lots of stories to tell: one for each of our ships. The Franca C, for example, was the first ship in the world to be built for cruises. The year was 1957. Over time the designs, sizes and decor of the ships have changed, and balconies have been introduced to the majority of cabins; the tastes and requirements of passengers have evolved but our values have remained unchanged, our commitment to our customers.
Costa Crociere: horizons that know no bounds
For 70 years Costa Crociere has embodied Italian style and hospitality. We have always made it our business to introduce our guests to the world's most stunning places, giving them the chance to explore different destinations and discover the different cultures in the five continents with complete respect for their identities. As the only cruise company flying the Italian flag, it is our responsibility and duty to act as an ambassador for Italian values in the world and to represent our country at our ports of call. At Costa responsible innovation is a key factor when we design the ships of the future and develop the onboard experience, a process carried out with maximum attention to detail in order to offer a holiday geared towards discovering local cultures and experiencing them as responsible travellers.
This is why we have plotted a course that regards innovation and sustainable development as the foundation for our future. For this reason, we strive to minimizes the impact we generate on the destinations we visit with you.
We are so excited to collaborate and create your dream cruise vacation of a lifetime!
Please click below to start the process to book or transfer your next cruise and we will connect you with one of our wonderful advisors to assist you throughout your cruise booking process.
CLICK HERE TO BOOK OR TRANSFER A CRUISE
If you have an urgent service-related issue, please click on the link below to create a service ticket and one of our service representatives will work on your request. We do have support 7 days a week and will reply in order of urgency.
CLICK HERE TO START A SERVICE REQUEST