Carnival Miracle
Overview
Carnival Miracle is a ship you may not believe when you see... but definitely don't miss seeing it!
When we say that Carnival Miracle takes you to another world, we mean that in every sense. Not only does this ship visit stunning destinations, but features incredible onboard spaces inspired by elements of fantasy. Escape from reality as you take in a show at the Phantom Lounge, a drink at Odyssey Bar or a dance at Dr. Frankenstein's Lab. To lose yourself in a song, find your way to Sam's Piano Bar. Hungry? You'll find great food all over the place, from the casual fare of Horatio's to the artful eats of the Bacchus and Ariadne dining rooms... not to mention the world-class cuts at Nick & Nora's Steakhouse. At Alchemy Bar we make drinks into art, while the laid-back RedFrog Pub has 'Caribbean cool' down to a science. And up in SkyBox Sports Bar, we've combined luxury-box comfort with the up-close view from the 50-yard line. Up on stage are the real-deal, pretend-singing champs - for instance, maybe you! - among your fellow vacationers at Lip Sync Battle: Carnival. Outdoors there's fun to be had, whether you're down for watersliding or up for simply sunning - Carnival's Twister Waterslide has you covered (in water, that is), and the Serenity Adult-Only Area will get you relaxing in the sun or the shade, grown-up-style. No matter your age, lifelong childhood-faves come to life at Hasbro, The Game Show. We've also got the interactive CLUE: The Murder Mystery woven dramatically throughout your entire voyage. And in case you forget, don't forget: the sweetest way to cap off the day is with a treat from Cherry On Top, our onboard candy-and-more store.
Bars and Lounges
RedFrog Pub
Good beer, good tunes, good times. Welcome to the island-inspired ambiance of the Caribbean's chillest hangout.
Alchemy Bar
For the perfect antidote to all that pre-vacation stress, try a unique cocktail custom-concocted by our mix-masters.
Mixologist Competitions
Calling all cocktail captains: come mix it up, pour it over ice...and let's raise some spirits.
Piano Bar
Finally. A bar where singing along isn't just tolerated, it's strongly encouraged.
Sky Box Sports Bar
SkyBox Sports Bar is your ticket to a great view of the game.. not to mention great drinks.
BlueIguana Tequilla Bar
Feel like a frozen tequila drink? How about an ice-cold Mexican beer? Grab a stool, amigo. This is where you wanna be.
More Options:
Exclusive Carnival Brews
Alchemy Martini Tasting
Casino Bar
Cheers!
Cruise the Vineyards
RedFrog Rum Bar
Events
Mega Deck Party
A deck party this 'Mega' can only happen on a deck this 'Lido.'
Groove for St. Jude
Do good. Feel good. And help some kids - also good, right?
Holidays Aboard
Holidays are some of the greatest days...and definitely some of the best to be enjoying a cruise.
Sailaway Party
Get ready to have an absolute blast, from the moment we get going.
Casino
Carnival Players Club
Your Sail & Sign card is the key - play and earn special perks, private invitations and great offers.
Slots
On your next cruise, try your luck at one of our state-of-the-art slot machines!
Blackjack
There's great blackjack action - hit the tables.
Drinks On Us!
The secret to free drinks in the casino... is no secret at all.
Casino Bar
Finding a great drink here is never a roll of the dice.
More Choices...
Casino Prize Games
Casino Tournaments
Poker
Scratch-Offs
Table Games
Kids, Teens, & Family
Seuss at Sea
Just you wait and see what there is to see at Seuss at Sea!
Hasbro, The Game Show
Your favorite board games come to life in this fun-for-all-ages game show extravaganza.
Zumbini
We're getting kids ages 2-5 moving - and having an amazing time. Every Carnival cruise now includes Zumbini!
Camp Ocean
At Camp Ocean, 2-11 year-olds stay busy, keep active and have fun as they enjoy all new ocean-themed activities in supervised, age-based groups.
Club O2
This is Club O2, the just-for-teens hangout on board Carnival.
Circle "C"
Welcome to the ultimate hot spot for guests ages 12 to 14. And with all this fun happening, they'll be LOLing in no time.
More options...
Arts and Crafts
Basketball
Build-A-Bear Workshop at Sea
Cherry On Top
Green Eggs and Ham Breakfast
Mini Golf
Night Owls
Pools
Seuss-a-palooza Parade
Seuss-a-polooza Story Time
Towel Animal Theater
Twister Waterslide
Video Arcade
ZSpa
WaterWorks
Dining
Steakhouse
Premium cuts and seafood are the centerpiece to this evening dining experience.
*Additional Charge
Dining Room
Three courses, no pretension. This kinda-fancy dining event brings a premium selection of food options (and fun!) to your table every night.
Green Eggs and Ham Breakfast
Sit down to breakfast with the world of Dr. Seuss.
*Additional Charge
Lido Restaurant
When it comes to a variety of food served in a casual dining atmosphere, this is the center of it all.
Pizza Pirate
Ahoy hungry mateys, this is the place to enjoy a tasty pizza, indeed.
Swirls
Grab a cone and choose from frozen yogurt or delicious soft-serve ice cream
the original heat blaster.
More Options:
24-Hour Room Service
BlueIguana Cantina
Bottomless Bubbles
Cooking Demonstration
Dining Room Breakfast

Guy's Burger Joint
JavaBlue Cafe
Kids' Meals for Campers
Kids' Menus
RedFrog Pub

Seaday Brunch

Special Diets
Steakhouse Selections
The Carnival Deli

The Chef's Table
Shops
Cherry On Top
There's a candy store on the ship? Sweet!
Fine Jewelry
Commemorate your vacation by picking up a great deal on a lifetime supply of sparkles.
Beauty
Try out a new look or stock up on your favorites-top name cosmetics, fragrances and skincare items are up to 25% off retail prices.
Accessories
There's an almost-endless selection of designer jewelry and accessories on the ship...so bring your inner fashionista along.
Apparel
We're not putting you on! There's great clothes shopping - tax-free - aboard the ship.
More Choices:
Dreams Studio
Pixels
Onboard Internet
Watches
Liquor
Spa and Fitness
Spa Carnival
The spa features premium beauty and wellness therapies, for premium results.
Massage
If you're all about feeling good, we've got a massage to match.
Facial Treatments
We won't just treat you, we'll treat you well.
Men's Services
Hey man, been to the spa lately?
Medi-Spa
Looking to improve your looks? Look no further.
More options...
Fitness Center
Fitness Classes
Hair & Beauty Salon
Jogging Track
ZSpa
Entertainment
Lip Sync Battle: Carnival
The mic won't work, but you'll need to work it... if you're gonna be a vacation superstar.
Hasbro, The Game Show
Your favorite board games come to life in this fun-for-all-ages game show extravaganza.
Playlist Productions
How about a show, to go? Our theater full of amazing musicals cruises along with you.
CLUE: The Murder Mystery
So maybe you've cracked the case at home... great! Now try your luck at collecting clues at sea, as the real-life mystery unfolds around you.
The Punchliner Comedy Club
Hope you packed your funny bone - our onboard comedy performances are designed to tickle 'em just right.
More Options:
Live Music
Karaoke
Nightclub
Piano Bar
SkyBox Sports Bar
Outdoor
Serenity Adult Only Retreat
Serenity's the faraway place...that's actually quite close to it all.
Pools
For a cool day at sea, make it a pool day at sea.
Mini Golf
Like real golf, only smaller...and packed with delightful obstacles.
Jogging Track
Enjoy a run with a view.
Twister Waterslide
The splashiest route from point A to point B.
Basketball
A game of hoops at sea is perhaps triple-double the fun of a game on land.
WaterWorks
Built for some serious splashing.
Activities
Build-A-Bear Workshop at Sea
Make cuddly new friends at sea.
*Additional Charge
Cooking Demonstration
Taste what happens when our chefs demonstrate how they make some of your favorite onboard foods.
*Additional Charge
Atrium
There's no place at sea as welcoming as the atrium - the welcome-aboard center.
Make it With Michaels
Make creativity happen with an onboard arts and crafts session designed by the experts at Michaels!
Bingo
B-I-N-G-O, B-I-N-G-O, B-I-N-G-O ... this BINGO is a game-o.
*Additional Charge
Onboard Internet
Stay connected and share the good times you're having.
*Additional Charge
More Options:
Alchemy Martini Tasting
Art Auctions
Art Exhibitions
Art Games
Art Seminars
Basketball
Cherry on Top
Dreams Studio
Games
Library
Military Appreciation
Mini Golf
Mixologist Competitions
Pixels
Video Arcade
Ship Highlights
Camp Carnival
From finger painting to cartoon time, the little ones will also have a blast at Carnival Miracle's supervised camp for kids 2-11.
Circle "C"!
One of the coolest spots on Carnival Miracle is Circle "C" and it's just for kids 12-14... Video games, dance parties, late night movies, Karaoke and more. What could be funner?
Club O2
The place to be aboard Carnival Miracle for teens 15-17 - They can enjoy their own cool parties, movies and shore excursions.
Spa Carnival
Feel the stress sail away as you pamper yourself with soothing treatments and massages for your body and soul at Carnival Miracle's Spa Carnival...Ahhhhh.
Twist & Shout
Slide and glide on Carnival Miracle's fun-ified Twister Waterslide. It's three decks high of twisting and turning water mania - Perfect for splishin', splashin' and playin' at any age.
This Grill's Got It
Horatio's (Carnival Miracle Lido restaurant) - Stroll around the buffet and explore our many international cuisines and made-to-order options.
Delectable Dining
Choose Early (6 p.m.), Late (8:15 p.m.) or Your Time (5:45 p.m. to 9:30 p.m.) dining in the Carnival Miracle Bacchus Dining Room and feast on culinary pleasures to your heart's delight.
Nick & Nora's Steakhouse
The intimate ambiance and mouth-watering favorites at the Carnival Miracle Nick & Nora's Steakhouse will make this a truly memorable meal.
Check Out the Game
Maguire's Bar (Carnival Miracle sports bar) - Cheer your home team to victory or just catch up with friends.
Luck of the Draw
Mr. Lucky's (Carnival Miracle casino) - Is there a more exciting sound than the ka-ching of the casino?... Turns out "Lady Luck" likes to cruise as well.
See a Show
Phantom (main show lounge) - Sit back and enjoy the performance, where every night is aboard Carnival Miracle an extravaganza.
Lounging and Laughing
Mad Hatter's Ball (Carnival Miracle lounge) - Be courageous with Karaoke or just be entertained by the hilarious comedians.
Nothing wrong with a sing along
Sam's (piano bar) - Join your fellow guests around the Carnival Miracle piano bar and sing along to your favorite songs.
What's a cruise without water?
Siren's (Carnival Miracle Pool Area) - Take a swim or just relax poolside - whatever floats your boat.
The Raven Library & Internet Cafe
Catch up on your reading, send family and friends an email or stimulate your brain with a game of Chess, Checkers or Scrabble in the Carnival Miracle library.
Life is Suite!
Fall in love with your suite. It's packed with plush carpet and swanky decor. And sleep like a baby on your Carnival Miracle Comfort Bed.
Inaugural Cruise: 2004
Refurbished: 2015
Passengers: 2,124 (Double Occupancy)
Length: 963 ft
Beam:106 ft
Max Draft: 26ft
Speed: 22 knots
Tonnage: 88,500
Onboard Crew: 934
Registry: Panama
Please select the deck plan you will like to see below
Sky Deck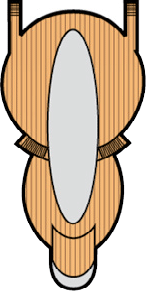 Vendor
Carnival Cruise Line
General
In a nutshell... we're all about fun vacations at sea and ashore! A Carnival cruise features day and nighttime entertainment like stage shows, musical performances, deck parties, casinos and more. (Like what? Like waterslides!) We invite our guests to come as they are, and we make everyone feel right at home with comfy staterooms, attentive service, casual and elegant dining, plus a variety of bars and gathering places indoors and out. Guests enjoy this unique experience against the backdrop of some of the world's most beautiful seaports.
Our 26 ships operate 3- to 24-day voyages, departing from every coast in the U.S., as well as Canada, Puerto Rico and Barbados. While we're best known for Caribbean cruises, we sail to other exotic and amazing destinations like Mexico, Alaska, The Bahamas, Europe, Hawaii and the Far East. Additionally, Carnival Cruise Line Australia now has three ships, and offers cruises from Sydney and Melbourne to New Zealand, the Pacific Islands and Singapore.
Carnival Cruise Line proudly supports important causes like St. Jude Children's Research Hospital.
We are so excited to collaborate and create your dream cruise vacation of a lifetime!
Please click below to start the process to book or transfer your next cruise and we will connect you with one of our wonderful advisors to assist you throughout your cruise booking process.
CLICK HERE TO BOOK OR TRANSFER A CRUISE
If you have an urgent service-related issue, please click on the link below to create a service ticket and one of our service representatives will work on your request. We do have support 7 days a week and will reply in order of urgency.
CLICK HERE TO START A SERVICE REQUEST