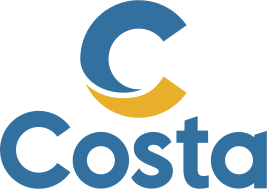 Costa Fortuna
Overview
Costa Fortuna is a tribute to ocean liners of the past. Symbolically built in the legendary shipyards of Genova Sestri ponente, it is the sister of Costa Magica. Its motto is "first class" for the refinement of the furnishings and the elegance of its atmosphere.
The public areas and restaurants are decorated with reproductions of advertising images of the roaring '20s and '30s. In the lobby there are models of 26 ships of the past that have been part of the Costa Cruises fleet. Thirteen decks are dedicated to international ports. 4 pools, one with a retractable roof, hot tubs and slide, open decks, casino, disco, and theater; all of this classified Costa Fortuna as one of the first ships with new standards of quality and hospitality for cruise vacations, to sail in great comfort to any destination in all seasons.
Activities
You're invited to join the crew of Costa's Fortuna, in our journey to have the most memorable cruising experience in history. Even if you decide to do nothing at all, I promise you'll be entertained without a moment of boredom. Aboard the ship, you'll find Babysitting, Children Room, and a Teen Center so while you're basking in the sea air, you won't have to worry about what the younger cruisers are getting into. You'll have the opportunity to appreciate the pure glory of a soak in the Jacuzzi or a trip to the Spa for pampering.
Beauty Salon
Shops
Children's Room
Babysitting
Teen Center
Spa
Indoor Pool
Outdoor Pool
Jacuzzis
Kiddie Pool
Video Arcade
Library
Teen's Room
Card Room
Internet Access
Tennis Court
Basketball Court
Jogging Track
Supervised Youth Program
Specialty Dining (fee added)
Club Restaurant
A private and exclusive area where the more refined pleasures of the table are the real stars. All accompanied by impeccable service.
A restaurant exclusive to the guests in Suites and the highest levels of CostaClub, or bookable for a fee, for breakfast, lunch and dinner in an intimate and elegant environment. The food quality is presented with sophistication and with the closest attention to service. For dinner, the restaurant serves both the main menu and the regional gourmet specialties. With the skilled hands, expertise and inspiration of highly trained Costa chefs transform dinners into special events. Every recipe, from appetizers to dessert, is even better if cleverly combined with a glass of wine, which is a perfect complement to the food. Finally, it is impossible to resist the selection of desserts, with as many as five samples of the most delicious desserts prepared by the chef.
Pizzeria Pummid'oro
A 100% made in Italy pizza, with high-quality ingredients and the genuineness of dough made with leavening prepared with mother yeast.
On board, a Costa ship is one place more than any other that makes you feel like you are in Italy. Pizzeria Pummid'oro, where you can eat the most famous Italian dish prepared strictly according to the original recipe. Spend a casual evening with friends or your family. There are as many as 14 pizzas on the menu for everyone's tastes, from the most popular Margherita, Napoli, Four Seasons and Calzone, to a real specialty: cheese focaccia from Liguria. All accompanied by an excellent wine or draft beer. And maybe, after your feast, you can finish the evening off with a selection of typical sweet dishes. The secret of the Pizzeria Pummid'oro lies in the simple and natural ingredients, such as extra virgin olive oil and mozzarella, freshly prepared on board.
Teppanyaki Restaurant
A different type of experience, spend a night in a soft environment in an Oriental style, where you can observe the craftsmanship of Japanese chefs. You can relax in the Japanese Teppanyaki restaurant to experience a different evening. The lounge area is decorated in an Oriental style, the atmosphere and the dishes are extremely elegant and refined. You can order light sushi, sashimi and many other oriental specialties prepared by our chefs. No matter the dish you choose, you will see the magic in front of you: the tables are arranged around where the chefs prepare each delicious morsel at a time. The art of shaping the food with their bare hands and razor-sharp knives, always leaves diners speechless. A Japanese dinner with chopsticks, or forks if you prefer, is always pleasant, as a couple, with friends or with the whole family.
Samsara Restaurant
Where the Pacific Ocean and the Mediterranean meet, you can savor Pacific fusion cuisine in a menu full of taste and innovation. The menu created by Stefano Fontanesi, Costa Corporate Chef, and Riccardo Bellaera, Costa Corporate Pastry Chef, is an explosion of taste where habanero chilies, cashew nuts, and Japanese sake meet Mediterranean specialties like olive oil, fettuccine, Greek feta and much more. Some examples? Mango ceviche with red onions and aji amarillo, risotto with octopus in curry sauce, fillet of beef with tamarind sauce, fried okra, mashed sweet potatoes with ginger: a journey within a journey! The Samsara restaurant combines the creativity of the Costa chefs with typical ingredients of Pacific and Mediterranean cuisines in a refined and exclusive environment. Fresh and delicious, innovative cuisine that is rich in aromas and flavors from Asia and South America, prepared with the Mediterranean at heart.
Gourmet Burger
Have you ever experienced the thrill of eating a real hamburger in the middle of the sea? On Costa ships, you can taste one of the best burgers you have ever had. For dinner, you can enjoy one of America's most popular products, reinterpreted according to Italian taste and passion with quality, traditional, healthy and wholesome ingredients: Fassona beef, cheese and vegetables, all certified fresh. The bread is so delicious that it takes the triumphant crown, every bite makes you want another. The area dedicated to burgers is in the casual setting of the self-service restaurant. Take a look at the menu on the chalkboard and order a sandwich, fries and a Italian craft beer!
Entertainment
Theatre show
included - exclusive
The magic of Broadway sparkles at sea. Every evening there is an exciting and engaging show for the adults and children.
Costa offers a different show every night. All the performances on the bill are great productions perfect in every detail, from the costumes to the scenery. The casts are composed of top-level national and international professionals who know how to make you laugh, dream and emote. All shows are enjoyed by an international audience. That's why show time is the most eagerly anticipated by all. Sit in a comfortable armchair to applaud magicians, singers, acrobats, dancers and international artists who perform only for Costa. Each show in the grand theatre brings the same excitement of a Broadway show. And you yourself can be a star performing on stage in our talent show.
Bravo Chef Show
included - casual
Are you passionate about cooking? Would you like to attend a cooking show? The Bravo Chef show will give you this opportunity.
You can witness the skills of the Costa kitchen staff and discover some secrets that will make your dishes delicious. Also, the best competitor will be able to win restaurant vouchers by entering the final quiz.
Disco
included - casual
With the bass turned up and the silence of the sea outside the windows at night, only on a Costa ship. For those who love to dance all night, the nightclub is the last rendezvous of the day. This is where the music is addictive, and dance music lovers can enjoy it and dance on the sea until dawn. Nothing is more fun or romantic. Make new friends to the wild rhythm of the night. Fun is turned all the way up and make you feel a part of a great night out and then, while everyone is asleep, you can watch the sunrise over the sea.
Shopping
for a fee - casual
You can purchase beautiful gifts on board, and everything that you may need for your cruise.
What vacation would be complete without shopping? Plenty of opportunities to buy a gift for someone or for yourself, like your favorite perfume or that dress you forgot to pack. Buy what you need, like toothbrushes, after sun lotion or a battery for your camera, without the risk of running out of something you need on your trip. Moreover, the branded Costa boutique always has the right idea for a lovely keepsake.
4D Cinema
for a fee - casual
The spectacular 4D cinema engages your five senses using special effects that make you experience your film like a character within it. Enjoy the incredible experience of seeing a movie that engages all your senses. The images come close to you and you can almost touch them, the sound is enveloping and your sense of smell sense is stimulated by fragrances released into the air. The 4D screening on Costa is very addictive and is an opportunity not to be missed, especially as a group activity.
Laser Star
for a fee - casual
On a Costa ship, everything, even the laser path, is an exciting challenge to overcome for a fun-filled adventure. An ideal location to celebrate birthdays and private events with its 262.47 square feet of special effects: 60-inch monitor, laser lights, and a high-quality sound system for all ages. This fun and high-tech environment has many choices for your various requests. You can also challenge your friends in the Laser Maze, an interactive game with a stream of laser beams that players have to cross as quickly as possible, being careful not to break them. The goal is to score the most points and win the challenge against other players. So much fun!
Casino
for a fee
Visit the casino if you prefer more traditional, but no less exciting bets! Rouge or noir, on which side does your fortune lie? The Costa ship Casino is a fun place for adults, where they can spend some time after dinner and make a bet to test their luck. Professional croupiers are waiting for you at the roulette or blackjack tables, but you can also try your luck at the slots. There are all kinds of traditional and electronic games. Everyone is involved in a Bingo game, each person must purchase a card, and there is an interesting prize every time.
The Voice of the Sea
Do you have a talent for singing? Get ready for a theater performance ... in the middle of the sea! Take part in "The Voice of the Sea"; a hugely popular talent show on board which is back for a new, exhilarating 2018 season! Voice of the Sea is based on the popular tv show broadcast in over 180 countries around the world, tailor made for Costa ships. The only talent show with the famous Blind Audition, where judges vote solely on the participant's voice
Bars, Etc.
Amarillo Ice Cream Shop and Chocolate Bar
A creamy homemade ice cream or some delicious chocolate praline? No one can resist the delicacies of the Amarillo Ice Cream Shop. An environment that is right out of a fairy tale, where you can enjoy a romantic indulgence or a delicious snack with your children. For the Amarillo Ice Cream Shop, Costa chose the best: the ice cream makers use only Agrimontana-based flavorings to prepare a delicious, creamy ice cream on board, preserving all the nutritional properties. The Italian spirit is also celebrated in confectionery with Biasetto sweets and Gobino chocolate. In this sea of sweetness, you are spoiled with choices.
Chocolate shop
If you love chocolate in all its forms, Costa ships can provide the perfect expression of your passion in the chocolate shop. Just cross the threshold to enjoy the aroma of cocoa that infuses the environment. Here, all your wishes come true. What would you like? A hot or cold chocolate, Praline special, a slice of sachertorte or flavored coffee? Perhaps you would prefer a distillation, dessert wine or liquor you can drink in a chocolate glass. Costa has chosen high-quality Italian chocolate and confectionery products created by Gobino and Bajo respectively. If your sweet tooth brings you to the chocolate shop, surely you can't resist the delights of the chocolate fountain, an endless cascade of sweetness ready to be served with fresh crisp cookies or pieces of fruit.
Aperol Spritz Bar
An Aperol Spritz is an invitation to smile the whole day in an atmosphere of serenity, an expression of joy on your Costa cruise. When is the right time for an Aperol Spritz? At sunset when you've enjoyed your excursions, relax at sea, wearing your special attire for an evening with friends, sitting at the Aperol Spritz bar and enjoying the sun slowly set. Or before lunch when you're thirsty from participating in the activities with the entertainment team, and you would like something to cool you down and give you an appetite. In short, any time is a good time for an aperitif, which has become an Italian classic from Aperol, a historical brand whom Costa has an exclusive partnership.
Brewery
A toast with a special beer to make your trip with our Costa Cruise even more exciting!
If you are looking for an authentic Italian taste experience on board, discover one of our most interesting new arrivals: the Birrificio Angelo Poretti Pub. For over 140 years, the brewers at the Birrificio Angelo Poretti have been selecting and combining different varieties of hops to create unique and surprising beers, ideal for an evening with friends. All in an Art Nouveau environment reminiscent of the brewing room of a real craft brewery, but with a unique panorama: the sea!
Wine Shop and Wine Bars
What is the tastiest way to start the night on a Costa ship? A good glass of red or white wine from our wine shops and bars. The wine shops and wine bars are the perfect places to enjoy an authentic glass of wine for an Italian aperitif. In an elegant atmosphere, taste excellent wines from the different wine regions of Italy, served with cheeses and appetizers that enhance their taste. Add flavor to the start of your evening by choosing a bottle or glass of your favorite wine or a wine recommended by your Cruise sommelier. In our wine shops, there are modern bottle dispensers and air-conditioned wine cellars keeping the wines at ideal temperatures, preserving them from the air and keeping them at their best for you to enjoy. If you're passionate about wine, make sure to check the Diario di Bordo to see the day and times to taste prestigious labels and selected recommendations, and buy your Wine Tasting package.
Ferrari Wine Bar
The Ferrari Wine Bar is a classy corner on a Costa Cruise ship, where we can sip exceptional Italian bubbly.
Ferrari is the Italian brand of excellence for sparkling wine. Arising from the desire of its founder to create a wine able to compete with the best French Champagne in Trentino, it is now known worldwide as a high-quality label. Costa ships have a wonderful Ferrari Bar on board, where you can taste a brut, rose or demi-sec or participate in the tasting of grande cuvee labels. Meanwhile, the windows of the ship overlook the sea, which will accompany you during this exclusive experience.
Included Dining
Classic Restaurant
Every day, an Italian region will reign at your table, with a menu inspired by local culinary traditions.
Enjoy a typical Italian breakfast or a lovely international breakfast, served in the main restaurant and freshly prepared, that will give you the right boost to start your day. At dinner, taste the most famous Italian dishes, including fillet of beef alla Rossini, cappelletti with braised meat or a great Sardinian fregola with fresh vegetables, and gastronomic offerings from the places we visit. We also offer the most popular Italian dishes, for an extra charge, including the authentic cotoletta or the exquisite mozzarella produced on board. Finally, when it comes to the presentation of the food we make sure to pay attention to every detail, the reason behind this is because a taste experience starts with the eyes then involves all other senses.
Self-service Restaurant
It's lunchtime! Just rise from your lounge chair and go to the buffet to choose your favorite dish. Costa' Self-service Restaurants are perfect for informal dining where you can grab a light snack or a full lunch. It's the perfect time to refuel, your cruise day is about to become more active. You can also choose the Self-service Restaurant for dinner if you would like a quick meal or to synchronize your dining time with the schedule of others. With a large variety of vegetables, salads, pasta, meat and fish dishes, delicious desserts and options your kids will love, the Self-service Restaurant offers a pleasant and colorful experience. The large windows that overlook the sea invite you to relax and enjoy your food. Our waiters will attend to the drinks and clear the tables.
Mozzarella Goccialatte
On many Costa ships, there are mini dairies with the best curd, craftsmanship and dairy artisans. You can enjoy mozzarellas, burrata, buffalo, scamorze and many more on your pizza or in the delicious dishes on the Goccialatte menu, with all the courses created to savor the freshness of the product, straight from the dairy. The initiative is organized by "Latteria del Curatino," an Italian brand created from the synergy of two companies from Campania: "Comat" (one of the most successful in the production of plants and machinery for the dairy industry), and the dairy farm "Podere dei Leoni" (manufacturer of DOP buffalo mozzarella). The main ingredient is cow and buffalo milk curd from the plains of Sele. True all-Italian excellence that reaches our table.
Special Diets
The pleasure of a vacation is also provided in dishes for celiacs, allergy sufferers, vegetarians, and vegans, without sacrificing taste and creativity If you follow any special diets, like a gluten-free diet because you suffer from celiac disease or a hypoglycemic diet for diabetics, or you have an allergy or intolerance, we make sure you can enjoy the culinary experience of a Costa cruise. If you're vegetarian or vegan, we can serve you dishes prepared especially for you. Special menus are available at our restaurants and served at breakfast, lunch and dinner, or you can bring your own products that Costa chefs can turn into delicious dishes. Even when you go on an excursion, you can request a packed lunch to suit your needs. We are happy to meet your specific needs; notify us of your needs at the time of booking. Enjoy your vacation while maintaining your normal diet!
Italian brands
On Costa ships, the Italian influence is present every day at every event, in bars and on your restaurant table with carefully selected products and brands. Food, drink, ingredients and brands of great Italian tradition are part of Costa's selections to add taste and quality to your cruise. Costa has partnered with Illy coffee, Ferrari Spumante, Aperol and other major brands to make every moment at the bar special. We use raw ingredients of Italian excellence in our cuisine like olive oils, Fassona beef for burgers or curds from Sele for the mozzarella freshly made on board. Barilla pasta is the Queen of your first dish. And Agrimontana for ice cream, Gobino and Biasetto for chocolate and pastry, will sweeten your every moment on board.
Kids, Teens, and Family
Squok Club
included
The Squok Club is a Mini Club for children over 3 years (not requiring diapers). It's not school and it's not babysitting, it's entertainment! Your kids won't have a dull moment during a Costa cruise. And you can indulge in all the relaxation you deserve from a vacation! They'll never have a moment's pause between parties, games in the pool, tasty snacks, dancing together and mini tournaments. The Costa entertainment team knows how to hold their interest with many stimulating activities. On board, the Squok Club is divided into age groups: the Mini, for 3 to 6 years, with special Peppa Pig-themed activities, and the Maxi Club, from ages 7 to 11. So everybody has fun together with friends. The highlight of the entertainment aimed at children is that it's open all day (from 9:00 am to 12:00 pm) so that while the young tourists are busy at the kids' club, their parents can enjoy a trip or a romantic dinner. On many ships, the Squok Club area has a baby pool, water games, a pirate ship and castle.
Teen Club
included
Teens can experience the cruise with their peers with non-stop fun and always accompanied by Costa staff. Fun for everyone. That's why teens (ages 12 to 17) have their own Teen Club, divided into two age groups: Teen Club Junior (ages 12-14) and Teen Club (ages 15-17). These age groups help to create new friendships and the opportunity for your children to enjoy their vacation to the fullest. Many fun events. Among the most popular events are the dance and music classes, sports tournaments, pool parties with a midnight swim, disco games and themed dinners.
Aquapark
included
Sliding down the water slide at high speed from the top deck of the ship is very exciting. Between the different size slides and fast descents, you can test the courage of your friends or play with the whole family. You can slide down the articulated pipes and discover a new concept of fun during your Costa cruise, under the sun, with the water always fresh, and while the ship is plowing new seas every day.
Built: 2003
Number of Guests: 3,470
Number of Crew: 1,027
Gross Tonnage: 103,000 t
Length: 272 m (893 ft)
Width: 36 m (118 ft)
Cruising Speed: 20 knots
Max Speed: 22 knots
Please select the deck plan you will like to see below
Las Palmas Deck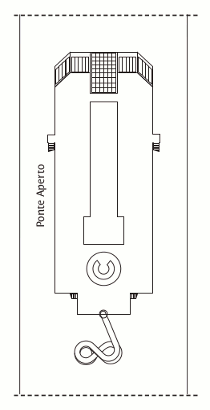 Vendor
Costa Cruise Lines
General
A 70-year journey
Almost 70 years since our first voyage with the Anna C on 31 March 1948, from Genoa to Buenos Aires, we are still going and still travelling the world's seas today with the Italian flag proudly flying above our heads. We have lots of stories to tell: one for each of our ships. The Franca C, for example, was the first ship in the world to be built for cruises. The year was 1957. Over time the designs, sizes and decor of the ships have changed, and balconies have been introduced to the majority of cabins; the tastes and requirements of passengers have evolved but our values have remained unchanged, our commitment to our customers.
Costa Crociere: horizons that know no bounds
For 70 years Costa Crociere has embodied Italian style and hospitality. We have always made it our business to introduce our guests to the world's most stunning places, giving them the chance to explore different destinations and discover the different cultures in the five continents with complete respect for their identities. As the only cruise company flying the Italian flag, it is our responsibility and duty to act as an ambassador for Italian values in the world and to represent our country at our ports of call. At Costa responsible innovation is a key factor when we design the ships of the future and develop the onboard experience, a process carried out with maximum attention to detail in order to offer a holiday geared towards discovering local cultures and experiencing them as responsible travellers.
This is why we have plotted a course that regards innovation and sustainable development as the foundation for our future. For this reason, we strive to minimizes the impact we generate on the destinations we visit with you.
We are so excited to collaborate and create your dream cruise vacation of a lifetime!
Please click below to start the process to book or transfer your next cruise and we will connect you with one of our wonderful advisors to assist you throughout your cruise booking process.
CLICK HERE TO BOOK OR TRANSFER A CRUISE
If you have an urgent service-related issue, please click on the link below to create a service ticket and one of our service representatives will work on your request. We do have support 7 days a week and will reply in order of urgency.
CLICK HERE TO START A SERVICE REQUEST