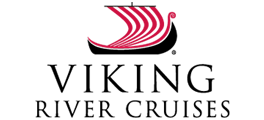 Viking River Cruises
Vendor
Viking River Cruises
General
River Cruise Destinations Journey into the heart of Europe, Russia, Asia, Egypt and beyond on a culturally immersive scenic cruise. Whether you yearn to see the castle-lined Rhine, romantic Danube, historic Seine or vineyard-laced Douro, your river cruise with Viking begins here.
Highlights of a Viking River Cruise Traveling by river, beyond the reach of roadways, you will discover the true nature of fascinating lands and the people who call them home. You will travel with ease, unpacking just once and enjoying the ever-changing scenery along the banks as you are gently carried on board an elegant, intimate ship to your next destination.
We are so excited to collaborate and create your dream cruise vacation of a lifetime!
Please click below to start the process to book or transfer your next cruise and we will connect you with one of our wonderful advisors to assist you throughout your cruise booking process.
CLICK HERE TO BOOK OR TRANSFER A CRUISE
If you have an urgent service-related issue, please click on the link below to create a service ticket and one of our service representatives will work on your request. We do have support 7 days a week and will reply in order of urgency.
CLICK HERE TO START A SERVICE REQUEST